VMware NSX Firewall Logging with Logstash
So the past day or so I have been working on getting some good detail from my NSX Edge's (ESG and DLR) and I have been able to get them working very well. The Kibana dashboard looks great too. :) So I wanted to share this out with anyone else who may be looking at doing the same thing or just needing a way to get useful information out of NSX in regards to firewall activity. I am also working on some of the other logging facilities within NSX and will share those once I get those tidied up.
Below is the code you will need to get started in setting up your logstash.conf file.
And here is a quick dashboard view for now.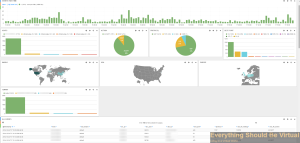 Enjoy!